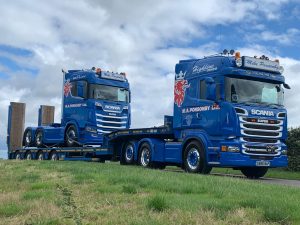 After waiting for lock-down to lift and all of the customisation work to be completed, Mike is over the moon to put the new S 650 out to work in the hands of driver Tim.
Young Tommy Ponsonby wasted no time entering the new girl into Truckfest alongside his brother Anthony, Tommy was pleased to come away with an award to start her on the right path, alongside the other members of the award winning fleet.
The featured picture is of them both leaving the yard on route to Truckfest.