Size Isn't Everything – But Quality Is!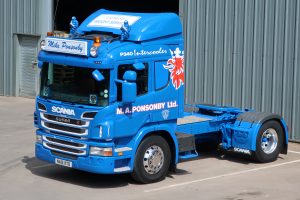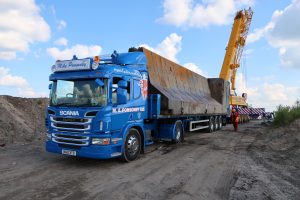 Something a little different has recently joined the MAP fleet. This P cabbed 4×2 unit started its working life with the Coop Supermarket distribution in the North East of England, hauling baked beans, talcum powder and other everyday goods.
The truck was initially bought to be used a yard shunter, assisting in the workshop with ABS issues on trailers, but we soon realised that this vehicle had far more potential.
Now that P cab has been given the MAP Midas Touch, it is regularly used for transporting lighter loads, taking trailers for MOT, or even on sites where the larger three axle tractor units struggle to access safely.
The wind deflector design pays homage to Mike's grandfather's business, D J Ponsonby Ltd – 'Denis Joseph Ponsonby.'
The name will need no introduction to a lot of people with their roots in road transport (remember those Scania 112's on the front cover of Truck Magazine?).  Although the business is no more, it carved a path for many of the Ponsonby family to continue in their individual road transport business sectors.